Yutong Drying Equipment
Founded in August, 2000,Jiangsu Yutong Drying Engineering Co.,Ltd. is a professional spray drying machine manufacturer and granulating machine supplier in China. Our products are widely used in pharmaceutical, food, chemical, light industry, agriculture, fishery, dyes, pigment and plastic rubber industry.
We carry out ISO9001 quality management system in order to ensure the quality of drying machines and drum powder mixing machines. Our products like spray drying machines and granulating machines have been awarded with many honors, including the high quality recommendation certificate issued by U.S. Asia Economic Trade Cooperation Committee and East China excellent technological products certificate issued by Jiangsu Association for Science and Technology.
The Advantages Of Us
We have long-term cooperation with domestic universities and colleges. In addition, we hire experienced professors and engineers, two of them have more than twenty years' experiences. Our spray drying machines have acquired several national patents, having strong development and innovation capacities.
We have our own special projects, such as:
1.According to the properties of material and the requirement of temperature, we have successfully developed the special drying machine for vanillin, which is in the leading position in domestic market.
2.Medicinal spin flash dryer originates in China. It successfully solves equipment cleaning and sealing requirements and meets the GMP standards.
3.Drying cylinder and other parts of single-arm vacuum dryer can be separately placed in clean area and common area. Compared with traditional double cones drying, it is easy to pass the GMP standards.
4.Closed cycle spray dryer, closed cycle tray drier and fluidized drying machine can effectively contain the materials of organic solvent and recover organic solvent. These drying equipments have high degree of automation and system security control.
5.Other manufacturers can only produce spray dryers, but we can provide complete set of drying equipment.
6.Ribbon vacuum dryer has the advantages of compact structure, large coefficient of charge, high drying efficient, extensive use and cost-effective.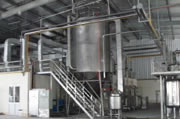 In the modern technology, drying technology not only facilitates the production storage and transportation, but also exerts a great influence on improving production quality, reducing labor intensity, environmental pollution, costs and energy consumption.
Applications and Featured Engineering Projects
Jiangsu Yutong Drying Engineering Co.,Ltd. Address: Zhenlu Town, Wujin District, Changzhou City, Jiangsu Province, China
Post Code: 213116
Tel: +86-21-60346873
Fax: +86-21-60346873
Email: globalsales2013@gmail.com